You and your bike, the unbreakable couple! One without the other can not compete. That's why, the condition of your bike and your physical condition are the most important. Your bike has to go through the muddy routes, strong impacts, day by day. We can relieve it every day. Starting with cleaning your bike and ending with the complete repair and revision. So you can relax for the next stage.
The best way to get ready for your competitions is with us.
If you are our customer, you already have the assistance and advice from our coach, he can help you with any questions, on your training.
You have an EXCLUSIVE and INDIVIDUAL service based on our knowledge, experience and participation in the best races in the world, our coach will prepare a personalized plan to face in the best possible conditions the competition that you choose.
ASK US ABOUT THE SPECIFIC CONDITIONS OF THIS PERSONAL TRAINING PLAN.
Competitions by stages are especially hard for your legs. You have to pedal many kilometers and your body suffers, if you don't have professional treatment.
Our masseurs will give you a massage every day, so you can recover quickly for the next stage. The motto is to prevent rather than cure.
The daily and individual treatment makes the masseur follow your daily evolution and be aware of your needs anytime.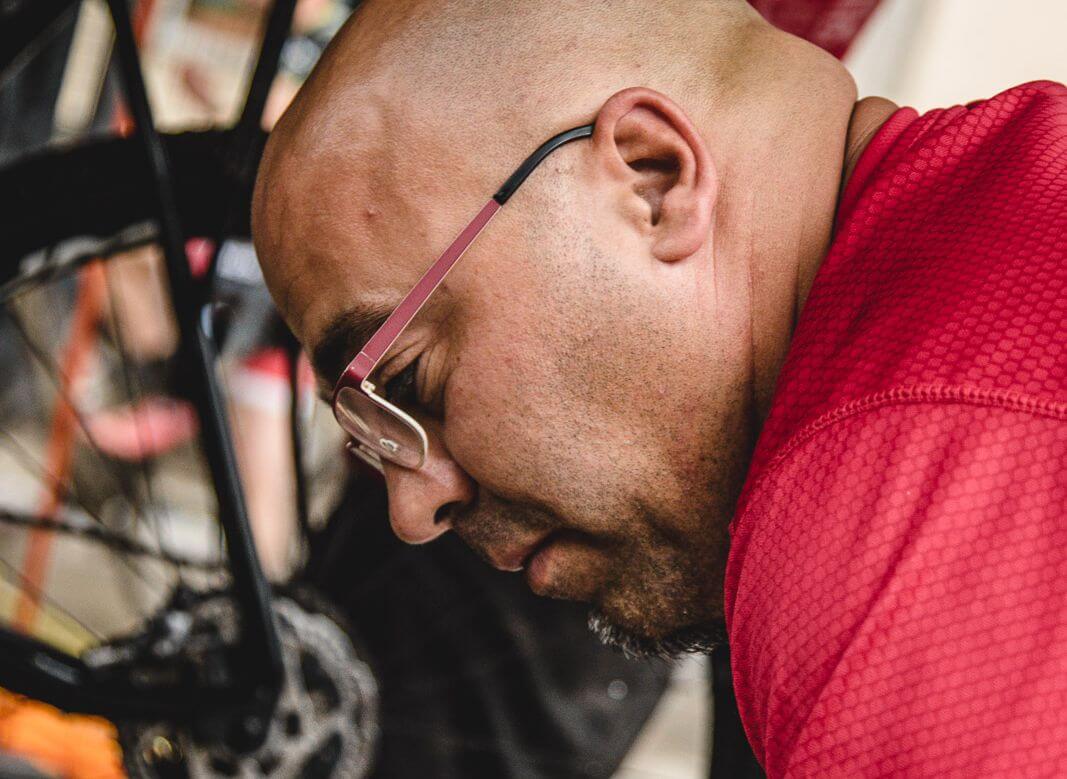 After so many years and many competitions, we are the only company that has a personal counseling area in everything that you could need in any of the races in which you participate.
Logistics, mechanics, massage, travel, transfers, tours, etc. If you have any questions, we are ready to solve them.
We can help you in every race, type of training, nutrition you need, what bike you have to carry, which clothes, everything you need to be ready. Do not hesitate to contact us. Everything has a solution.
Also when looking for your best travel option for the dream career we put you in touch with the company with more experience in this type of trip:
VALUA TRAVEL travel@valuatravel.com
I can't imagine a MTB competition by stages without MASQUEBICI. The massages, mechanical, logistic and psychological support gives you the "plus" that's needed to be above average. At TRANSCUMBRES, TRANSANDES CHALLENGE and now in LA LEYENDA DEL DORADO they made me feel as FAMILY: "You try them and you want to take them home". 100% Guaranteed.
For me, I think that your main course is the one to you. On the other hand impeccable mechanical and physical superior service factor. MASQUEBICI I think it is quality but all of it goes with that tip of first people that make you feel pro and at the same time like at home. The most important thing as I say in my "bars there are a thousand but that makes you feel comfortable" only MASQUEBICI.
My name is Esteban I am from Costa Rica I want to recommend to all bikers the services of MASQUEBICI. These guys are the best and they make you feel like a pro and like at home. The Fisios are extremely professional and excellent people that are always interested in one as a cyclist that we are at the top for each stage !!! The mechanics ..wow .. !!! They are great, the bikes are in excellent condition to face each stage! But in the end they are all excellent people and professionals who each time an event ends with Quebici is already thinking about the next one. For me it was one of the best experiences I have lived, more than recommended, EXCELLENT IN ALL ASPECTS .... 100% mtb and friends !!